Cinerarium's Women In Horror Month Screening (Melbourne)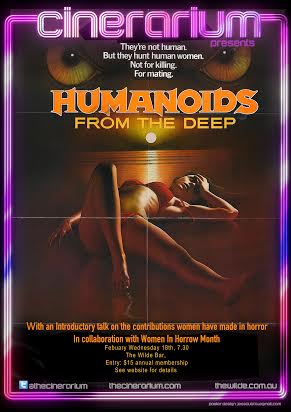 Location: Wilde Bar, 153 Gertrude St. Fitzroy, Melbourne
Date: Wednesday February 18, 2015
Organizer(s): The Cinerarium Film Society
Contact:  thecinerarium@gmail.com
Website/Social Media Links:
https://www.facebook.com/Cinerarium
Description: In February 2015 The Cinerarium Film Society will be taking part in Women in Horror month. The event, to be held on February 17th at Wilde Bar on Gertrude St Fitzroy, will be a screening of two films with an introductory talk on each by Eleanor Colla and Jemima Bucknell, two Melbourne film-liking gals who run Cinerarium.
For more event details please check our social media pages closer to the time.