Women in Horror Month Film Showcase (Online Film Festival)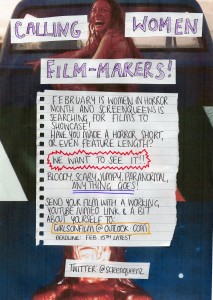 Location: Online
Date: February 1-28th, 2015
Organizer(s): Chloe Leeson
Contact: girlsonfilm@outlook.com
Website/Social Media Links:
http://screenqueens.wordspress.com/
Description: Screenqueens is hoping to showcase some brilliant women-made horror, whether this be professional up and comers or amateurs messing around with their friends, anything goes! Gory, jumpy, psychological or found footage, go crazy and see what you come up with.
Submissions should be sent to girlsonfilm@outlook.com with a working Youtube/Vimeo link and a short paragraph about yourself and the film. Deadline for submissions is Feb 15th.
UPDATES
February 2, 2015- Women in Horror Showcase (Part One)
Film Line-Up:

"The Illusion of Tranquillity revolves around the hybrid genre of paranormal surrealism, complete with homage to conventions of a 'Lynchian' style. What is really occurring is the protagonist is an ongoing victim of torture in their real world, and in this catatonic state has retreated into a fantasy world from which they could not wake up. The dream at the beginning of the film is the protagonists sub-concious psyche subliminally hinting for her to wake up, as she had previously ignored notes that have placed in her world, demanding that she 'wake up' and she doesn't understand the true meaning and motivation underpinning them. With the use of colour imagery, symbolic objects and flashbacks, the protagonist will slowly decipher the hidden message contained within the catalytic plot device of the dream, and draw to the conclusion that they have retreated into a fantasy world to escape their reality of torture and suffering."
Pestilence is loosely based on the storyline to the original Silent Hill game, where there are dual realities within the town- the fog world and the nightmare world. This idea is carried out in the film, where the protagonist has been locked in a room for years with no human contact or light (a reference to real life feral child cases). The character somehow wakes up in the middle of a creepy forest with miscellaneous strange objects hanging from trees. She is found and admitted to a psychiatric hospital, where she convulses and blacks out after receiving an injection. When she awakens she is in her own personal nightmare world, complete with her own inner demons which physically manifest as monsters." Watch here.

"Something Not Unlike Myself is about a rising star ballerina, deteriorating from the stress of the dance lifestyle, encounters an old friend with whom she has a bitter history; the friend has a warning for her. She really wanted to make a movie about girlhood and the complexities of striving for perfection and of female friendship." Watch here.

"Gogol to Hell centers on a lonely young woman who yearns for human connection, searching for it in unorthodox ways. She wants to go beyond social etiquette and the facades people care so much about. Gogol to Hell is very loosely based on Nikolai Gogol's Dead Souls and was the runner up of a 24 hour horror film competition. The film was written, shot, and edited in a day." Watch here.

"Nicole tells the story of Marcela who is recently released from the mental ward and then visited by a psychotic friend who has cruel intentions." Watch here.
February 6, 2015- Women in Horror Showcase (Part Two)
Film Line-Up:


"Rabarba is one of these performances without preparation. It was a funny process with everyone laughing and asking her questions like "what are we going to do next? What's my line? What's my step?" and so on. In the end they were surprised that the edit resulted in a different way than merrymaking and gave them a thrill." Watch here.

"Rachel Glassman is a high school aspiring filmmaker located in Toronto, Canada. Rachel and three other girls from her highschool have all written, directed, produced and acted in this film about a young girl faced with a Stalker. Combined with strange occurrences throughout a regular day, The Stalker is a psychological horror film." Watch here.

"Madeleine Martin is a Raindance Film MA student and recently made Henri as a 48 hour challenge (and won).  She's currently in pre-production with the same director for another short called The Hike which is a horror, as well as a mumble-core short scheduled for filming in July and their first feature next summer."  Watch here.

"'A Noiva' (The Bride) is a 2007 short that homages the american slasher genre, the giallo looks and the asian horror iconography. It was made fresh out of film school. It played in over 50 film festivals worldwide. It is about a legend of Northen Portugal, about a ghost bride who haunts couples in the Douro river." Watch here.

"Laura Leamus and Mariana Leanez are two 15 year old girls from Caracas, Venezuela, they call themselves 'amateurs', and have no experience on a professional level, but love films and film-making. They are submitting their first project called 'El Despertar' or in English, 'Awakening'. They wanted to portray through a nightmare the coming of age of a young girl. They symbolized internal conflicts about identity, sexuality, confusion and maturity in the creepy dream sequence." Watch here.
February 9, 2015- Women in Horror Showcase (Part Three)
Film Line-Up:

"Sin is the story of a simple interview, when a young man finds his morals tested with severe consequences." Watch here.

"Sofia Adams co-directed, produced, edited, and did most of the actual filming for her film Statue in the square alongside her co-creator Max Ribbans. They are both students at Tufts University and are involved with making movies both in their school curriculum's and outside of it." Watch here.

"No Place Like Home is about a young girl who was emotionally abused by her father and brother; it had an extreme psychological effect on her and she has now decided to take her revenge on her father and brother. The short consists of the present day where she has her father and brother hostage and flashbacks to where and when the abuse was taking place." Watch here.

"Human Chair tells the story of a successful British writer in the 1920's, Miss Granger, keeps herself to herself in the safety of her inspiring inherited mansion.  Due to her fame, she attracts attention from an otaku (a fan). He's no ordinary otaku. After receiving his obscure letter in the mail, it slowly dawns on her that not only is he creepy, but he's also violated the sanctity of her beloved writing space. Is she too late? Or has he really found her?" Watch here.

"… 'All Bets on The Table', a 70's style short horror film about a teenage girl that has a chance encounter with a mysterious cowboy who forces her to gamble on her own survival. The crew and cast spent a week in Lake Tahoe in a real life horror movie 'boot camp' with wild animals, heat and a very challenging time crunch!" Watch here.
February 18, 2015- Women in Horror Showcase (Part Four)
Film Line-Up:

"ORIGIN is the story of a dead girl slowly losing her mind as she reflects on the events that lead to her untimely death." Watch here.

"Soulless is a tale of how people react to dangerous times, and even the best intentions have deadly consequences." Watch here.

"Seven Minutes is about five friends enjoying a night of drinking, but a game of "Seven Minutes in Heaven" makes things more than awkward." Watch here.

"Bro tells the story of a teenage boy who moves to a new town with his family, only to find that it is run by a gang of hive-minded skateboarders, hell-bent on assimilating everyone into their collective." Watch here.

"Brooke Chekofsky lives in Gainesville FL and teaches children, makes music and draws cartoon animals ALOT. Brooke and her ex-partner, Jack made the short for a contest (but turned it in late so didn't win anything). It was only shown once at a bar that's now closed down so it hasn't been circulated. Brooke wrote the script, and Jack made the music and did a majority of the filming. Using the Wizard of Oz line was a part of the contest rules." Watch here.
February 20, 2015- Women in Horror Showcase (Part Five)
Film Line-Up:

"Hana Smith  is a 15 year old from Kansas City. This is a short film she did last semester for a film class entitled "Spectre Detectors". The premise is these kids who have a YouTube channel, and they make "fake" ghost videos. They go out on a hunt and end up finding something real, and one gets possessed. They shot it in two days, she did all the makeup. The quality is lower on purpose as they wanted it to have a found footage feel/look to it."  Watch here.

"Blood Slaughter Massacre is being released April 21, 2015 from Wild Eye Releasing. Lindsay produced this film and assisted her all female team of make-up artists (Cat Martin and Emily Stinson). This is an homage to all of the great 80s slasher films like Halloween, Friday the 13th, Pieces and Slumber Party Massacre."
"The second film is their submission for last years ABCs of Death competition. Lindsay co-wrote and designed the FX for this piece with her husband Manny. Their entry was M is for Mastectomy.. The actress Kathryn Lil went above and beyond for the role, visiting a cancer ward and learning about the effects of the procedure to apply to her performance." Watch here.

"Aberration is about 3 film students who find out the hard way that evil does exist, behind the walls of an abandoned mental institute." Watch here.

"A House in Walkertown – An egotistical mother pressures her son into searching for hidden money is the home of his recently deceased grandmother; what he discovers is a shocking secret." Watch here.

"Jovanna Machine is a Serbian carnal and painful body artist. Peep Show shows her real plastic surgery and her after the surgery, challenging the male gaze, she asks 'Am I pretty enough for you? Inside and out?' She is a co-founder of Girls Can Do Horror, probably the first horror NGO in Serbia."NOTE: NSFW, EXTREMELY GRAPHIC CONTENT AND REAL LIFE SURGERY. VIEWER DISCRETION ADVISED." Watch here.