Female Horror Authors Blog Series and Book Giveaway!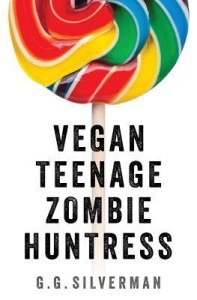 Location:  www.ggsilverman.com
Date: February 18-23, 2015
Organizer(s): G.G. Silverman
Contact: ggsilverman@gmail.com
Website/Social Media Links: http://www.ggsilverman.com/women-in-horror-month-6-celebrating-women-who-bring-you-chills-and-thrills/
Description: For #WiHM666, author G.G. Silverman plans to interview other kickass female horror authors on her blog, and she will also be giving away 6 copies of her feminist YA zombie novel "Vegan Teenage Zombie Huntress" via Goodreads. Lastly, the Kindle edition of VTZH will be on sale for 99 cents during Feb 18-23, 2015.
UPDATES
January 28, 2015- Women in Horror Month 6: Celebrating women who bring you chills and thrills!
Excerpt: February 2015 is the 6th annual Women in Horror Month (#WiHM666) and since I just joined the ranks of women in the horror community, I plan on celebrating in style by giving back! I'll be promoting some of the brilliant women who write horror by interviewing them on my blog so my readers can learn about rockin' lady scribes they might have not heard of.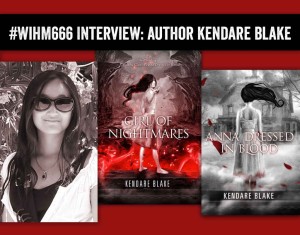 February 4, 2015- #WiHM666 Interview: Kendare Blake
Excerpt:
GGS: Hi Kendare! I'm so excited to host you on my blog today to help me celebrate the sixth annual Women in Horror Month (#WiHM666). Tell us about your "Anna" series of YA horror books, what's it about?
Kendare: Thanks very much for having me. I love Women in Horror Month. There are so many great females working in horror today. Anyways, about Anna Dressed in Blood and its sequel, Girl of Nightmares: they are ghost-hunting tales about Theseus Cassio Lowood, a 17-year old ghost hunter who kills the murderous dead. Following a tip to Thunder Bay, Ontario, he comes up against a ghost the locals call Anna Dressed in Blood, supposedly the ghost of a girl who was murdered in 1958, when she was 16. He thinks it's going to be an easy job, but unfortunately (or, fortunately, depending on how you look at it) Anna proves to be much stronger than Cas anticipated, and he's got to regroup and come up with a new plan.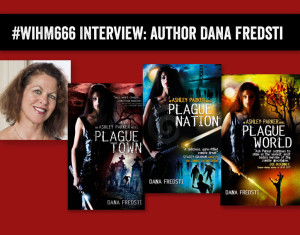 February 11, 2015- #WiHM666 Interview: Dana Fredsti
Excerpt: GGS: Hi Dana! I'm so excited to feature you today! It's the sixth anniversary of Women in Horror Month (#WiHM666) and I'm hoping to spread the word about kickass female horror authors such as yourself. Why don't you begin by telling us about your Ashley Parker/Plague Town Series, as I really enjoyed Plague Town and I think my readers would enjoy Ashley Parker's fierce female attitude. Strong Female Protagonists for the win!
Dana: Go strong female protagonists!!!
First of all, I'm really glad you enjoyed Plague Town (and hope you'll enjoy the sequels equally, and yes, that's a shameless plug for Plague Nation and Plague World, but there ya go).
The elevator pitch for the series is Buffy meets the Walking Dead, meaning strong female protagonist in a zombie apocalypse, with lots of humor interspersed with the horror, and characters who grow with each book. I really wanted to create a heroine who didn't start out with the trope of a huge chip on her shoulder as I knew there'd be enough emotional angst along her journey already. But I wanted to give her plenty of room for growth.
Some readers have complained that Ashley is too immature for a 29 year old in the original version of Plague Town (which was released as A Plague Upon All Houses by Ravenous Romance), Ashley was 19 years old and in her first year of college. When the rights were sold to Titan Books, my editor (the amazing and wonderful Steve Saffel) felt that the readership for the books would be increased if we made her older. So… she became a recently divorced and insecure 29 year-old, going back to college and trying to fit in with a younger crowd.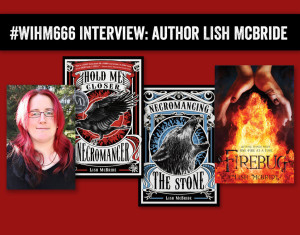 February 18, 2015- #WiHM666 interview: Lish McBride
Excerpt: GGS: Hi Lish! Thanks for taking time out of your busy schedule to appear on my blog today! As you know, I'm celebrating the sixth annual Women in Horror Month (#WiHM666) by hosting some fellow female YA horror authors here to spread the word about their work. What book series do you want to tell our readers about today, how would you describe the books, and what inspired you to write them?
Lish: I like to mash up genres. I'm not sure my books–whether we're referring to the Necromancer books (Hold Me Closer, Necromancer or Necromancing the Stone) or the Firebug books (Firebug and the upcoming Pyromantic–would fall into straight horror. There are elements of fantasy, and the Ava books are definitely action based as well…and then there's comedy. It makes for an odd but entertaining combo for me to work on.
Inspiration usually comes from a billion different places. For the Sam books, I wanted to write a series based around the kind of guy I grew up with in high school. Fantasy books usually center on an Alpha male and while that's fun sometimes, I wanted to see the awkward nerdy guy get some screen time. I'm from Seattle, and not many books are set there, so there's your setting. A lot of things came from research, too. And then the idea of Sam as a necromancer came from reading different books about necromancers and how many of them followed the animal sacrifice for power kind of magic, and I wondered what I would do if I had that power. I haven't eaten meat in years and years—if I can't kill an animal to survive, then what would I do if I had a power fueled by death and I had to use it? So Sam is a vegetarian and a softhearted guy stuck with a power fueled by death and he has to figure out how to live his life like that.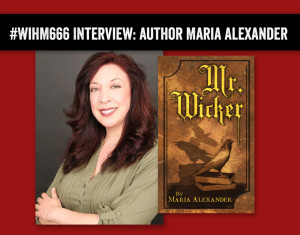 February 24, 2015- #WiHM666 Interview: Maria Alexander
Excerpt:
GGS: Hi Maria! It's so great to have you on my blog today. I just finished reading Mr. Wicker and I really enjoyed it. I seriously gobbled it up like Halloween candy, finishing it in 24 hours. I'm so happy to hear it is on the Final Ballot for the Bram Stoker Award. Since it's Women in Horror Month, this feels like a win for female horror authors everywhere.
I'd love for you start by telling my readers a little bit about your book, Mr. Wicker, and what inspired you to write it.
Maria: I'm delighted that you enjoyed it so much, G.G.! Mr. Wicker is about a woman missing a deadly childhood memory. She has to get it back before it destroys her life. The Library of Lost Childhood Memories holds the answer, but the Librarian is Mr. Wicker – a seductive, sinister creature with an agenda just as lethal.
The book was inspired by an extraordinary personal event. It was so special that I've chosen not to discuss it in interviews, but rather to treat it like buried treasure. If you solve the puzzle at the end of my book trailer, it will take you on a puzzle trail that reveals the amazing story-behind-the-story. You need only identify where you've seen a similar sequence of letters and numbers before. (Think about your most-visited websites and you're halfway there.)