Love Kills: Celebrating Women in Horror (Pittsburgh, PA)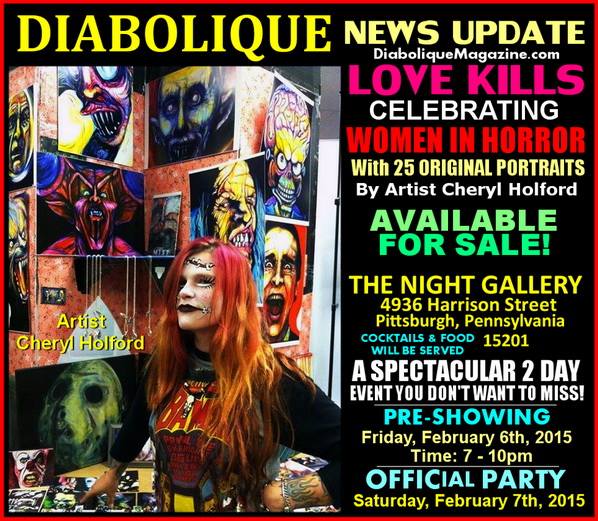 Location: The Night Gallery, 4936 Harrison Street, Pittsburgh PA  15201
Date: February 7 & 8th 2015
Organizer(s): Sandy Stuhlfire
Contact: info@horrorrealmcon.com
Website/Social Media Links: https://www.facebook.com/events/363319513852645/
http://www.horrorrealmcon.com/events.html
Description:  Horror Realm convention and The Night Gallery bring you this two-day event in the celebration of the women who broke our hearts on the silver screen. Twenty five original, one of a kind 16×20 canvas paintings created by artist and gallery co-owner Cheryl Holford will be on display and ready for sale, all of your favorite Women of Horror.
Friday, February 6th is a Pre-showing for anyone who can't wait to get their hands on one of these history making Monsterpieces. THE NIGHT GALLERY will open its doors for you between the hours of 7pm to 10pm. All paintings are first come first served.
Saturday is the party. Drinks and memorably great food will be provided by Holford's Catering.  Music By DJ Samarai, the man who gets all the songs right!
BYOB is optional and admission is free.
In conjunction with Horror Realm Con, Cheryl is sharing this event to celebrate your loved ones' favorite horror female or to make a gift to yourself just in time for Valentine's Day.
All original paintings will be sold for $60 each. All paintings are the work of Horror Artist Cheryl Holford and images will be included in Cheryl's first published print book to be released in 2016. Get your lady painting first or she will break your heart again.
The Night Gallery celebrated its first anniversary in January 2015 and is a non-profit art space offering exposure for existing and emerging artists and musicians at no cost.
Horror Realm, serving the horror community since 2009, produces a spring and fall horror convention each year in Pittsburgh, PA.  In addition to the conventions, Horror Realm also produces horror-themed entertainment and charity events in the area, including film screenings, author signings and art shows.  Charities supported by Horror Realm have included: Scares That Care, Fix The Chapel, Friends of the Hollywood Theater, The Bradley Center, Animal Rescue League, Pittsburgh Action Against Rape, Community Human Services, Myasthenia Gravis Association, Mainstay Life Services and Shepherd Wellness Community.