DepArtEd: Gothics and Cybernetics Art Happening (Leskovac, Serbia)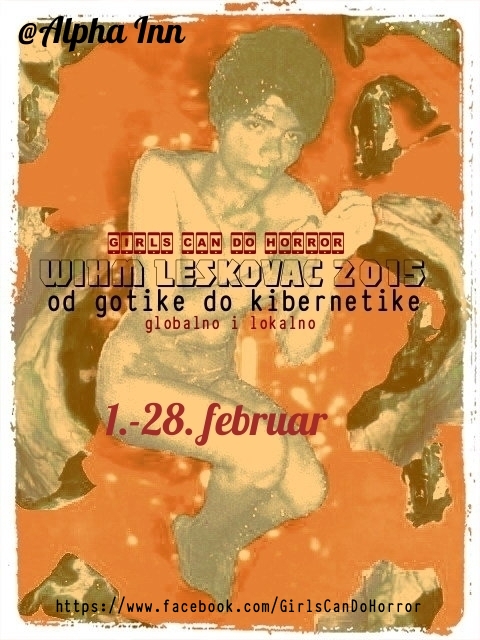 Location: Leskovac, Serbia
Date: Feburary 1-28th 2015
Organizer(s): Jovanna Machine
Contact: nikodbabenemadzabe@yahoo.com
Website/Social Media Links: https://www.facebook.com/GirlsCanDoHorror
Description: Women's contribution to horror AND science has always been denied or less visible. Our goal is to educate the public about women in horror and science by showing the way that women's powerful imagination can transcend the limits of our reality, from supernatural to scientific and back, empowering and powered by the horror genre. Finding gothic roots in cybernetics and vice versa is another way of cultural subversion.
There will be an exhibition and all artworks are hybrides, mutants or imitations, a sort of work that cyborg would create, or FOR cyborgs. All the works are inspired by different genres of horror, mixed with pop and high culture, so one can tell by looking at it that horror is indeed an important part of human or posthuman culture.
The works are mix of Pop Art and Carnal Art. It's self-portraying while traveling through culture, taking on the faces of icons, pin-ups and goddesses.
Also, we are making cardboard billboards that show a timeline with all the women who were involved in cybernetics and gothics, whether they were writing novels or modifying their bodies and gender, from Joan of Arc to Girls Can Do Horror today. The date of our event(s) is not just February 1st, it's February 1-28. I am asking more institutions to join us and display our billboard or give us space to do a reading or panel. I'll be putting up everything on our page as we go…
UPDATES

February 8, 2015-  "I was on the radio speaking about WiHM and how it's different for me from the last time. It was Radio 202, "Spaceship View", reaches around 25,000 people. I said that in the meantime, I had realized that maybe I didn't have so much in common with other woman, so this time I am doing a sort of "bad" management, which I happen to be very good at – it's "do it yourself". And this time I am reluctant to promote filmmaking as a  recommended profession for women – it's expensive, time-consuming and doesn't give you that much power either, especially not inside the Hollywood system. It's easier to be an acitivst or an artist. But, having all that in mind, women filmmakers deserve even more respect and more power because their job is very hard. And then I talked about gothics and cybernetics. I'm sending you the file of the part of the show that I'm in." -Jovanna Machine
Listen here:

February 18, 2015- -"From Gothics to Cybernetics" cardboard (rather than billboard!) is on display in the window of the "Radoje Domanovic" Public Library. I was pleasantly surprised that they agreed to exhibit it as this place is very prominent and hard to get.  After WiHM is finished, the board will "tour" other places in town." -Jovanna Machine