Horror and Her Makers Interview Series

Location: www.horrormade.blogspot.com
Date:  Every Monday during February 2015
Organizer(s): Jeanette Andriulli
Contact: jeanette.art@gmail.com
Website/Social Media Links: www.horrormade.blogspot.com
Description: Every Monday will feature an interview with a female creator of indie horror films. We'll be talking to professionals who do everything from Directing to Costume Designing to Acting and Special Effects. Every Wednesday will be a new post about the many places you can find women creating for the horror genre. And each Friday is your chance to enter to win an original Horror-Made piece of art featuring some of the genre's favorite heroines.
UPDATES:
February 2, 2015-  Horror and Her Makers: Interview with Director Emily Hagins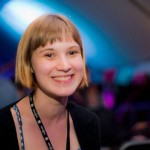 Excerpt: "Emily Hagins is kind of an incredible person, and I'm proud to say that I've had the privilege to work with her. We worked together on the Chiller Channel's original anthology movie "5 Senses of Fear." She started working as a production assistant before most of us realized films were made rather than just magically materialized and she's been creating quirky fun horror films ever since. If you're looking for one of the horror industries most kick-ass female directors, you found her. And she's been making her mark on the industry since she was 12."
February 4, 2015- Short Film:The Tell Tale Heart and Creator Lyn Kagen
Excerpt: "The University of Connecticut (my alma mater) has one of the only puppetry programs in the USA and one of the top programs in the world. There are always incredible shows coming out of their programs, but there is one in particular that I often find myself reminiscing on, that is The Tell Tale Heart as performed by some of the most disturbing puppets I've ever seen. It took a pretty full team of puppeteers, model makers, lighting and camera students to put this project together, and it came out beautifully. Well, beautiful in a weird and twisted macabre Poe way. Thankfully, this MFA thesis project was made into a short film, so I can find and re-watch this performance as man times as I want.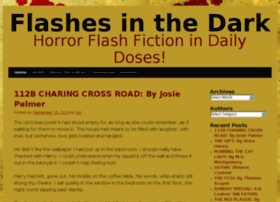 February 6, 2015- Top 5 Sources for Horror Flash Fiction #WiHM 
"Where do all the best female horror flash fiction writers hang out?  All over the place! I frequent the flash fiction sites for inspiration and I figured I'd share of my top 5 sites in conjunction the female horror writers that post on them."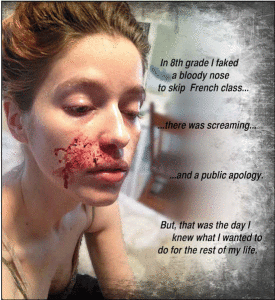 Feb 9, 2015: Horror and Her Makers: Interview with Special Effects artist Jackie Zabuska
Excerpt: " I've been lucky enough to work with Jackie Zbuska on a multitude of projects, and I'm always pointing people her way when they need someone to do their blood effects. Her work is constantly blowing me away. She first started working in film as a make-up artist when she was 19 and has been steadily working her way upwards and onwards ever since. I've personally hired her to make my monster for  episode three of my web-series- Haunting Light. And you may have even seen her work already, since she's worked on films for SyFy, Chiller and Lifetime."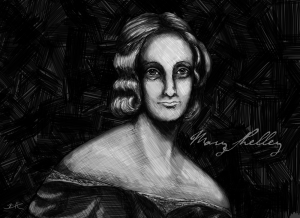 Feb 11, 2015: Women Writing Horror
Excerpt: "Today is pretty much just a list, a list of women horror writers That I have read and enjoy coupled with the ones I have heard about and want to read. You may also realize just how many books I read at the same time… I may have a problem…
NAH! Bring me more books!"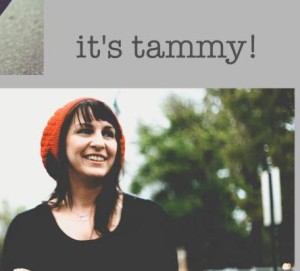 Feb 16. 2015:  Horror and Her Makers: Interview with costume designer Tammy Gibbens
Excerpt: "Tammy is one of the most unflappable on-set personalities you could ever meet. She rocks the wardrobe department in whichever position she is placed and has an incredible eye for detail. She's done some great work in the horror genre, and so I wanted to talk to her about her experiences as a wardrobe supervisor and costume designer for film."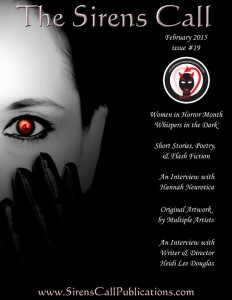 February 25, 2015-  Soska Sisters hear the Siren's Call and discover the Devil Within 
Excerpt:  "With February drawing to a close, and women in horror month along with it, there are a few projects that I want to draw your attention to.
First off , Nina D'Arcangela, Gloria Bobrowicz and Julianne Snow have published the next issue of Siren's magazine. This month is "Whisper's in the dark" and is- of course- an all women created collection of horror art, poems and short stories."