Friday Night Frights presents: Sugar Hill (1974) in Tacoma, WA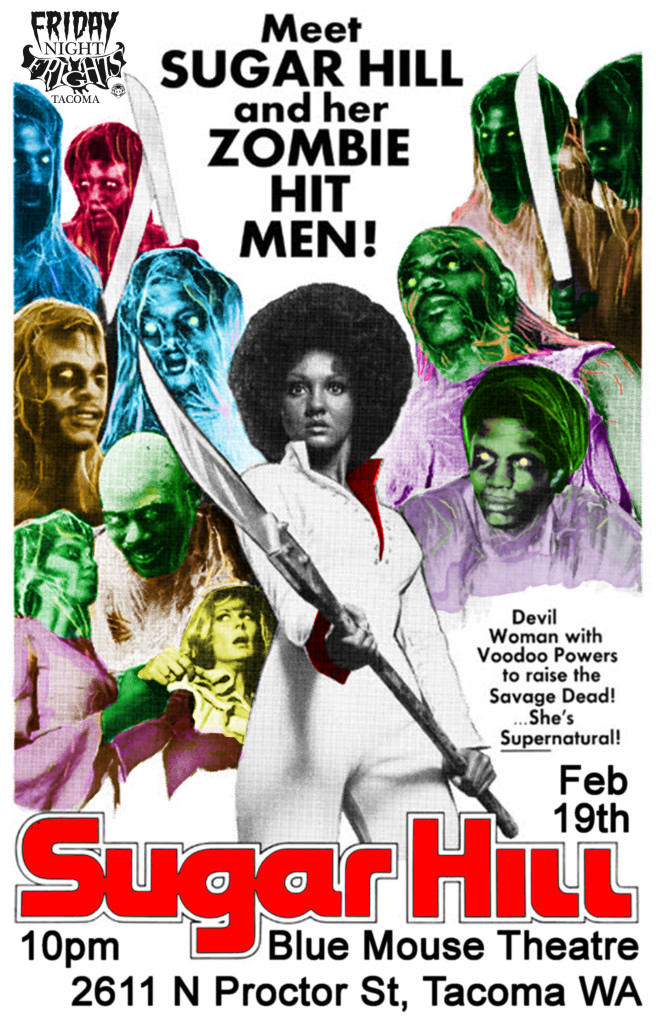 Event:  Friday Night Frights presents: Sugar Hill (original 1974 film)
Date: Friday, February 19, 2016
Location: Blue Mouse Theatre
Time: 10pm
Cost: $6
Organizer(s): Anthony Dluzak
Contact: luzak23@gmail.com
Website/Social Media: https://www.facebook.com/events/1542427229404304/
Description:  *Devil woman with voodoo powers to raise the savage dead! She's supernatural!*
Not only is February Black History Month but *also* Women in Horror Month!!! And what better way to celebrate BOTH with a screening of the original badass Blacksploitation horror film, Sugar Hill (1974 film)!!??!!
You can be assured that we are lining up the best local female artists, writers and horror talent that we can! There will be tons of prizes and giveaways for the event!!
And make sure you come dressed in your best 70's gear for a chance to win as well!!!
— Pray you never cross a woman out for revenge and her squad of zombie hitmen! When a nightclub entrepreneaur gets taken out by the mob, his girlfriend Sugar Hill calls upon the local voodoo priestess to conjure Baron Samedi to summon up an undead army to carry out an unholy plan for vengeance. Packed with horror, action and loads of 70's funk, Sugar Hill will slay you! —
Get down with us at the historic Blue Mouse Theatre on February 19th, 10pm for just 6 bones! You DO NOT want to miss out on this rare screening!
Invite your friends! The terror IS IN Tacoma!!!!