Acid Cane Comics celebrates Women in Horror Month with a night of Comics and Rock 'n' Roll (Dublin, Ireland)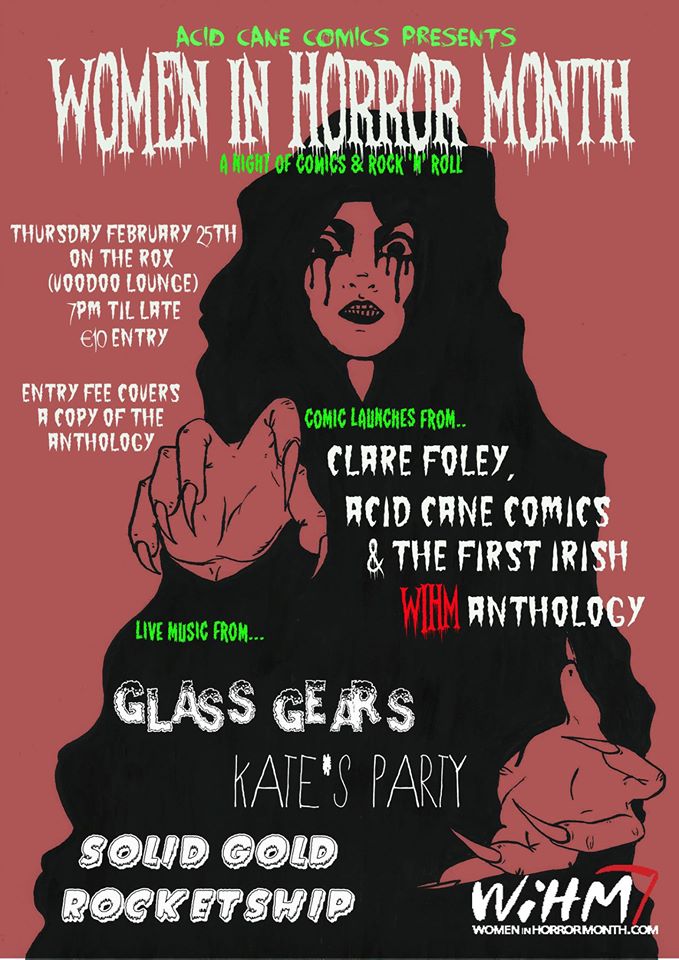 Event: Acid Cane Comics celebrates Women in Horror Month with a night of Comics and Rock 'n' Roll
Date: Thurs. February 25, 2016
Time: 7pm
Cost: €10 (which includes your copy of the anthology)
Location: On the Rox // 8 Coke Lane // Dublin, Ireland
Website/Social Media: https://www.facebook.com/events/1836495846576951/
Description: To celebrate Women in Horror Month 2016, Acid Cane Comics are hosting their first comic/live music crossover night. In the interest of fostering connections and boosting the respective scenes, we're getting the comic creators and connoisseurs of Dublin together in an atmosphere of drinks and rock 'n' roll. With new comic releases from Acid Cane and Clare Foley as well as entertainment from Kate's Party, Glassgears and Solid Gold Rocketship. For posterity, ACC are publishing an anthology of work under the theme of women in horror. Everyone gets a copy upon arrival!
Featuring comics launches by:
Clare Foley (https://www.facebook.com/clarefoleyartist/?fref=ts)
Acid Cane Comics (https://www.patreon.com/AcidCaneComics?alert=1&ty=h)
and Music from:
Kate's Party (http://katesparty.bandcamp.com/album/my-other-girlfriend)
Glassgears (https://glassgearsband.bandcamp.com/releases)
Solid Gold Rocketship (https://soundcloud.com/solidgoldrocketship)
Entry is €10, which includes your copy of the anthology.