Women in Horror Month Launches a New Community Forum!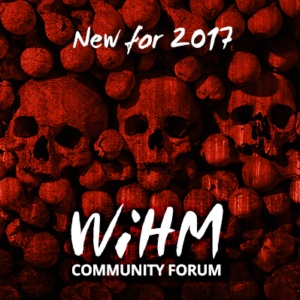 Happy day 9 of Women in Horror Month!

Every year, we try to bring something new to the mix that can help women in the industry connect with each other, showcase their work, and generally assist everyone working hard to create provoking, entertaining, and important happenings around the world.  WiHM wouldn't exist without each one of your contributions and actions. It's truly inspiring!
This year we are so excited to launch an official community forum on our website. You might wonder why in the age of social media we would do such a thing but hear us out for a second okay? Cool.
There is a lot of extra noise on Facebook/Twitter, and we want to make it easier for you to connect with each other.  For example, we often hear from bloggers seeking filmmakers, writers, and other artists to interview. While at the same time we are getting emails from these very creators looking for websites to cover their work. By creating a message board, we hope to make it easier for you to connect with each other directly.
Plus, some people are trying to spend less time on social media for mental health reasons. For artists, it can feel like a tug-of-war between the critical need to promote yourself/art/business while at the same time not wanting to get sucked into the baggage that can result from signing into the never-ending Facebook news feed. This isn't an replacement, just another avenue for networking.
This forum was created to provide assistance with productions/crew needs, film festival submission listings, blog submissions, career advice, crowdfunding, and general networking etc. After all, women need to create employment opportunities for each other whenever possible. We will not rise in the ranks in any significant capacity otherwise.
We hope you will check out the community forum and sign up. Help us turn this space into a useful communication and networking tool.  If it doesn't work out, then so be it. But we have to try, right? Right.
Happy Women in Horror Month!
P.S. Don't forget to claim your FREE MONTH of Shudder before Feb 28th!