2017 Guests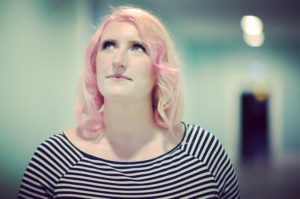 Aislinn Clarke
Aislinn is the first woman in Northern Ireland to write and direct a narrative feature film, I Have Sinned, which is currently in post production. That film has been screened as an invite only work-in-progress at the Cannes Film Festival market by its sales agents and has already secured distributor interest. Aislinn has an extensive professional background in theatre and radio writing and directing as well as a strong academic background in film, with a bachelor's degree and two master's degrees from Queens University Belfast. Her work has been praised by the Soska Sisters, who call her "a reincarnation of Alice Guy-Blaché" and "one of our favourite directors", as well as by Marianne Madelena (SCREAM) who described Childer as "Magical, beautiful" at the Women in Horror Film Festival 2017.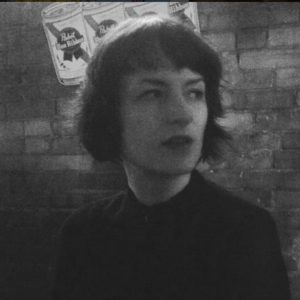 Alison Lang
Alison Lang is a writer and editor based in Toronto. For several years she edited Broken Pencil Magazine, a publication dedicated to zine culture and the independent arts. She has written about Alanis Morrissette and female rage for the Toronto Star, cannibalism and grief for TIFF.net, progressive morticians for Rue Morgue Magazine and a chapter on Geraldo Rivera's Devil Worship TV special for the bestselling anthology Satanic Panic: Pop-Culture Paranoia in the 1980s. She is the author and editor of Women with Guts, a book of interviews and essays about horror heroines in TV, film and print.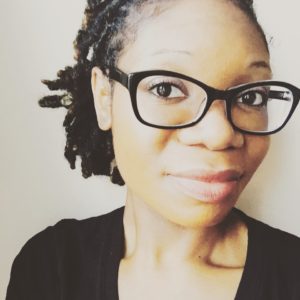 Ashlee Blackwell
Ashlee Blackwell is a writer from Philadelphia and Temple University grad with concentrations in Film, Women's and Black Studies. Her first love being slasher films has lead down a educational yet fun path to creating Graveyard Shift Sisters, a website dedicated to highlighting and celebrating Black women creators and fans in the horror community. She has written for various print and online publications including Shock Till You Drop, Shadow and Act, Rue Morgue, The Guardian US, Black Girl Nerds, Birth.Movies.Death, Paracinema and more.  Ashlee aspires to bring intersectional horror into the college classroom and continue to build scholarship on horror films and television.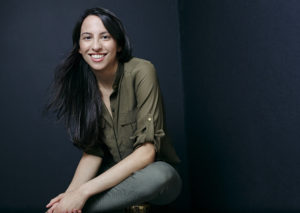 Christina Raia
Christina Raia is a New York City based Writer/Director, the Founder of CongestedCat Productions, and the Director of Crowdfunding at Seed&Spark. Her work, a collection of short films, a web series, and two feature films, has gained a large online following through multiple crowdfunding campaigns. She has been covered by press outlets such as Indiewire, AfterEllen, and BuzzFeed. She also turned her desire to foster collaboration and engagement in the local film community into IndieWorks, a monthly film screening series showcasing and supporting the work of other independent filmmakers in New York.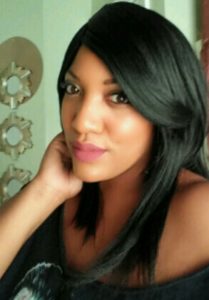 England Simpson
England is an accomplished film/television actor and producer. She has appeared in over a dozen independent projects, including her breakout role for truTV. On account of her fangirl nature and self-deprecating humor, England has garnered thousands of "homies," aka fans, with her goofy attitude and passion for all things geeky.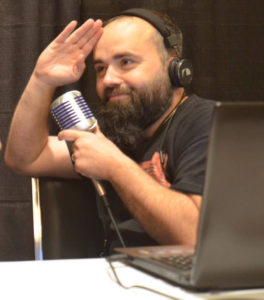 Jay Kay
Residing on the outskirts of Camp Blood in the famed backwoods of Blairstown, New Jersey, Jay Kay is a champion for women in filmmaking and horror. A judge for the LA based Etheria Film Night, a Panel Host for the Ax Wound Film Fest and Female Eye Film Fest, he now joins the incredible Women in Horror Film Fest as a judge! Parlaying his love of the horror genre into a career of broadcasting (HORROR HAPPENS RADIO/HorrorHappens.com), writing, acting, moderating, filmmaking, film fest programming and more. With his body of meat work and the growing reputation in the horror community, Jay Kay also dabbles in horror journalism, finding homes on several multi-media horror platforms writing features, reviews and editorials including HorrorHound Magazine, HorrorNews.net, Terror Time, Horror New Network and formerly of Icons of Fright.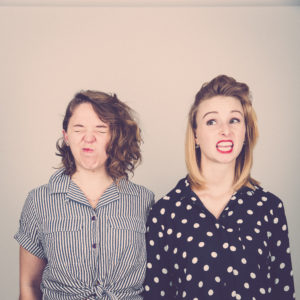 Jennifer Bonior and Dycee Wildman
Jennifer Bonior and Dycee Wildman live in Nashville, TN and spend all of their free time making short films with a spooky or horrible twist. Bonior, from San Jose and Wildman, a Nashville native, bring very different backgrounds and styles to their projects. Their ongoing collaboration has been born out of a joyful love of creation and a shared delight in all things scary and strange. While both women make things separately when their powers combine wild and wonderful films are the result.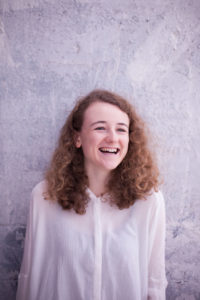 Julie Berkey
Julia K Berkey is a twenty year old sophomore currently earning her BFA at the Film Conservatory of SUNY Purchase College in New York. She was born in West Virginia, raised in Seattle, Washington, and moved to New York to pursue film. She is a queer filmmaker who is determined to tell her stories through her own point of view. She hopes her work will inspire and create a space for those who often do not see themselves in the media. She has directed and written four short films, produced two, and crewed on over ten. She has helped program the Children's Film Festival Seattle 2018. She is currently in pre-production for her next short.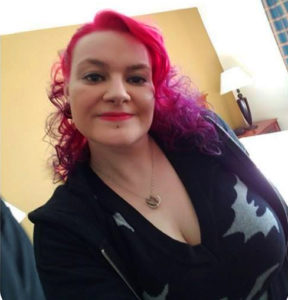 Lindsay Serrano
Having started my career as a makeup artist in haunted houses, I've since been a producer and first AD, and have been proud to help bring three features, two web series, and over twenty short films to life but I've never created a project of my own until now. Completing a film is an indescribable feeling, knowing that you created something that would not and could not exist without you, creating something out of nothing; it shows that there is still magic in the world.
As a child of the 80s, I fell in love with the movie magic created by the likes of George Lucas, Steven Spielberg, and my personal hero, Jim Henson. I studied the methods they used to bring their creatures to life, and was astounded by the number of people it required. I knew that I wanted to be one of those people who brought magic into the world.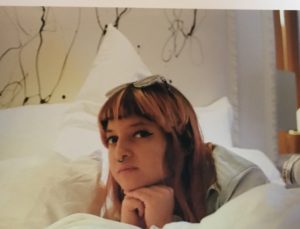 Marinah Janello
Marinah Janello is a video artist/filmmaker whose work deals with issues of circumstance through humor and creative writing. Her short films and installations have been displayed at Slamdance Film Festival, PopopStudios International Center for the Arts, The Chicago Underground Film Festival, The Boston Underground Film Festival and The Fort Lauderdale International Film Festival amongst others.  In addition, she won Best Experimental Film at the 2016 Shawna Shea Film Festival and has taught filmmaking and video editing courses at The National Art Gallery of the Bahamas and the Sidney Poitier Film Festival in Nassau, The Bahamas. Currently residing in Boston, MA, she works in media production at Harvard University's Hauser Studio.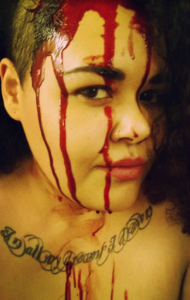 Misty Dawn
Misty Dawn, born and raised in the Midwest, is a former student of the University of Iowa. She had plans to earn degrees in English and Journalism, before turning her focus to Film Studies in 2013 after attending her first Horror Convention. Being a lifelong horror fan she had spent most of her spare time watching horror movies and learning everything she could about them. Special features and commentaries were her favorite and what she always called her Film School 101. Based on all that she learned from previous gracious filmmakers she decided to try her hand at her own short film. Hooker Assassin (2016) is the first short film that Misty directed, wrote and produced. She is currently developing a few stories ideas into scripts and intends to keep telling stories about real people in extraordinary situations.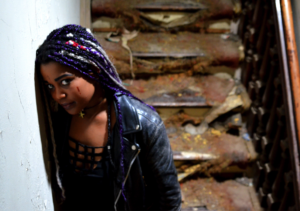 Monika Estrella Negra
Monika Estrella Negra is the founder of ARF and Black and Brown Punk Show Chicago. She is an avid reader, lover of all nerdy things, a community organizer and budding screenwriter/filmmaker. 'Flesh' is her first feature. She envisions the world as a giant film, with narratives begging to be told.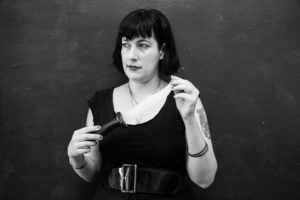 Nicole Solomon
Nicole Solomon is a writer, director, and President of 4MileCircus, a media services company. She is the director of a number of short films including Mare, Small Talk, and the upcoming Sanctuary, which she co-directed with Jeanette Sears. Nicole is a regular contributor to Crixeo and her work has appeared in/on New York Magazine, AfterEllen, Tits and Sass, and PopMatters, among others. She lives in Brooklyn. Find her online at 4MileCircus.com and NicoleWitteSolomon.com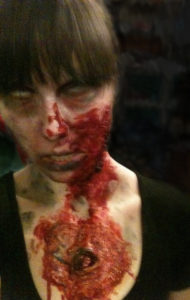 Stee McMorris
Stee was first consumed with horror when she spent unknowable lifetimes careening through the Void, crashing through and beyond unspeakable nightmares. In school, she became obsessed with the grotesque maze of the human mind, and graduated with a degree in neuroscience. While working in a lab between degrees, the film monster found her and plucked her out of academia to pursue a career in discordian storytelling. She assistant directed precisely once before deciding it was better to be the king. Inspired by everything from eldritch visions to the hideous capacities of humanity, Stee's work explores blurred edges between mundane savagery and the ineffable and terrible mysteries of the great beyond.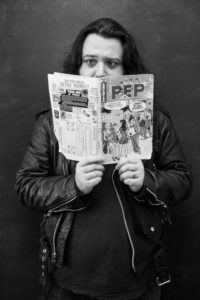 Sean Mannion
Sean Mannion is a video and film producer based in Brooklyn, New York. He has produced over 100 short films, web series episodes, event videos, advertisements, and educational videos. He is currently preparing for the release of his first feature film, Meme. His experience with promotion and distribution for film and video projects includes a decade of social media promotion and working with film venues, festivals, non-profit partners, and educational institutions for the promotion, screening, and distribution of film projects. With Nicole Solomon he founded 4MileCircus to help bring the lessons they've learned about producing and promoting media to fellow independent artists.