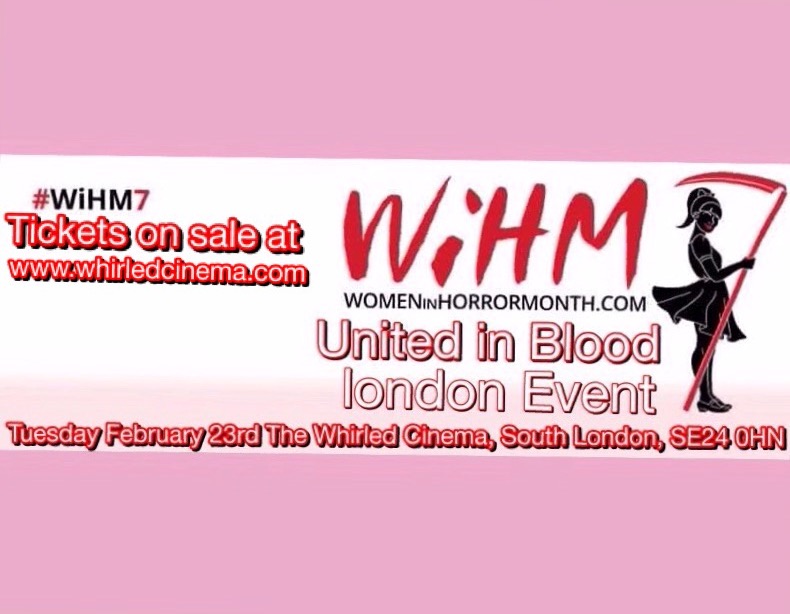 Event: WIHM: United In Blood 2016
Date(s): February 23, 2016
Organizer Name: Jonathan Hughes
Location: The Whirled Cinema, South London, United Kingdom
Organizer(s): Jonathan Hughes
Contact Email: trailblazerjonnyh@hotmail.com
Website/Social Media Links:
http://www.whirledcinema.com
https://www.facebook.com/events/858978857482547/
Event Description:
Tuesday night February 23rd is a special night at The Whirled Cinema, London celebrating The Femme Fatales of The Silver Screen both in front of and behind the camera in Honour of Women in Horror Month. On this night they're will be a presentation of 10 shorts from 9 of the most talented Independent Female Directors in the industry today. Andy Stewart is the 1st ever Male participant of The WIHM Massive Blood Drive. So to honour this landmark 'INK' Will be included in The Shorts Showcase also.
Following that is a special WiHM Panel featuring Barbie Wilde, Nicholas Vincent, Katie Bonham, Abigail Blackmore and Jessica Messenger with Special Guest Moderator Emma Dark. During The Panel they'll be a giveaway of exclusive signed Soska Sisters Prints & WIHM Merch.
After a short intermission. They're will be a Presentation of The Soska Sisters WIHM Massive Blood Drive Featuring segments by The Soska Sisters, Jill Gevargizian, Joe Magna, Hannah Neurotica, Lisa Ovies, Tristan Risk, Maude Michaud, Patricia Chica, Andy Stewart, Nicole McClure, Veronica Hampson and Kate Taeuschel, and Gig Guerrero.
The Night Ends with The feature presentation 'DYS' directed by 'Maude Michaud'
Tickets are on sale at www.whirledcinema.com