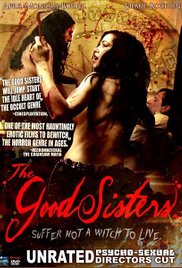 Event: The Good Sisters (Film Screening)
Date: February 28, 2017
Time: Event begins at 6:30//Film Screening starts at 7pm
Location: Northeast Public Library, 330 7th St NE, Washington, DC 20002
Organizer(s): Caroline Gould
Contact: caroline.a.gould@gmail.com
Website: https://www.facebook.com/events/240174576388229/
Details: Join us for D.C.'s signature Women in Horror Month event!
Starting at 6:30 pm we will feature readings and artist discussions from the 2017 D.C. Women in Horror in Anthology.
At 7 p.m. we will begin our screening of The Good Sisters.
Breanne Good and Kindra Good are sisters with a secret life — practitioners of witchcraft, glamours, and black magick. Fiercely protective of their privacy, craft, and ancient bloodline, they become suspicious of their new neighbor Daniel who also leads a life shrouded in mystery. Unsure if he is unnaturally obsessed with them – or if they are only being paranoid — the Good Sisters will have to draw all their power about them as it becomes clear their ages-old battle of good versus evil, light versus dark, freedom versus oppression may be about to begin again. Which leaves the question … who is being Good, and who is not?
The Good Sisters is an independent film shot in Havre de Grace Maryland, the hometown of its creators Jimmyo and April Monique Burrill (who plays Kindra Good). It premiered in 2009 at the hisotric Senator Theater in Baltimore, Maryland where all of John Waters films are premiered.
This screening is part of the 8th Annual Women in Horror Month. Women in Horror Month (WiHM) is an international, grassroots initiative, which encourages supporters to learn about and showcase the underrepresented work of women in the horror industries. Whether they are on the screen, behind the scenes, or contributing in their other various artistic ways, it is clear that women love, appreciate, and contribute to the horror genre. Learn more at WomenInHorrorMonth.com