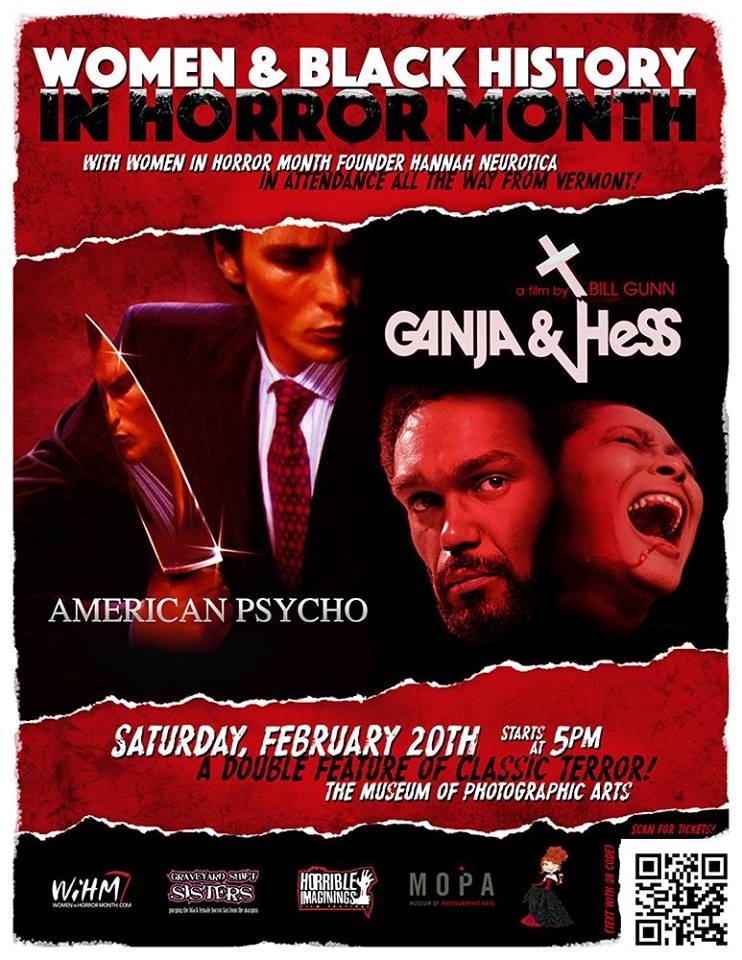 Event:  A Women & Black History In Horror Month Celebration!
Date: February 20, 2016
Time: 4pm-11pm
Location: MOPA // 1649 El Prado// San Diego, CA 92101
Organizer(s): Miguel Rodriguez,  Horrible Imaginings Film Festival
Contact: http://www.hifilmfest.com/contact-horrible-imaginings/
Website/Social Media: https://www.facebook.com/HorribleImaginings
Description:  Horrible Imaginings Film Festival is gearing up to celebrate Women in Horror Month and Black History Month in partnership with Graveyard Shift Sisters, and Horror House Party!
Often stereotyped as a boy's club genre, the horror genre has nonetheless featured incredibly talented women and people of color behind the camera. To pay tribute to these hardworking folks who defy conventions and bring scares, the turn-of-the-millennium classic "American Psycho," directed by Mary Harron, will be featured in its appropriate 35mm format!
Also in honor of Black History Month, the hypnotic actress Marlene Clark will be spotlighted in a repertory screening of "Ganja and Hess," Bill Gunn's subversive answer to both the Blaxploitation and vampire genres.
Join us for both of these rare screenings in honor of this great occasion!